Garry Davis – First Citizen Of The World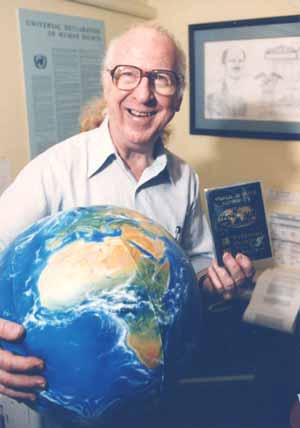 His radical proposal — hailed by supporters like the way of the future — was a world with no national borders, one in which all people belonged to the same global citizenry. The world would be a place of peace because it would have no need for war. Garry Davis Citizen World
In Burlington, V, Mr. Davis, self-styled World Citizen No. 1, gadfly to official governments and founder of one of his own, died July 24, 2013. He was 91. Newspaper reports of his death became the final installments in the international reportage that chronicled his movements for much of his life. Garry Davis Citizen World
For a stateless man, Mr. Davis presented a most unusual profile. A son of Meyer Davis, the successful society bandleader, he had grown up in privilege and acted on Broadway before flying B-17 bombers during World War II. The war took his brother's life and left Mr. Davis a changed man.
"Ever since my first mission over Brandenburg, I had felt pangs of conscience," he wrote in a memoir. "How many bombs had I dropped? How many men, women and children had I murdered? Wasn't there another way, I kept asking myself." Garry Davis Citizen World
How 'the fun began'
Mr. Davis settled on a course of action that began one day in May 1948, when he strode into the U.S. Embassy in Paris and renounced his U.S. citizenship. "I no longer find it compatible with my inner convictions to be a party to the inevitable annihilation of our civilization, by remaining solely loyal to one sovereign nation-state," he said. "Now you are stateless, Mr. Davis, and on U.S. government property," Mr. Davis recalled the vice-consul responding. "We must ask you to leave." Garry Davis Citizen World
Several months after his stand at the embassy, Mr. Davis drew international notice when he hauled a makeshift bed to a U.N. meeting in Paris and announced that he would not leave until the body recognized him as "the first citizen of the world." The United Nations declined to comply. Undeterred, he began rallying others to his cause. Mr. Davis became a celebrity in Paris, where his speeches reportedly drew crowds in the thousands. His most-noted supporters included physicist Albert Einstein, the existentialist philosopher, and writer Jean-Paul Sartre, and author and philosopher Albert Camus.
In 1953, Mr. Davis founded the World Government of World Citizens. He later created the World Service Authority, an executive branch headquartered in Washington that continues to issue passports and other documents today. To date, 950,000 people are registered as world citizens, according to the organization.
World Service Authority passports, printed in English, French, Spanish, Arabic, Russian, Chinese, and Esperanto, cost $45 for three years of validity, $75 for five years, and $100 for eight years. Togo, Mauritania, Ecuador, Zambia, Tanzania, and Burkina Faso have accepted the travel documents on "a de juris or juridical basis," according to the group's Web site. Garry Davis Citizen World
In 1991, The Washington Post reported that the State Department had determined the World Service Authority was not legally empowered to print such documents. Critics charged that Mr. Davis was hawking "false hope" to people who had few other places to turn for help.
"A lot of times it works, and a lot of times it doesn't, and we make no bones about that," Mr. Davis said of his group's issuing of passports. "But if you're dealing with bureaucrats who recognize documents rather than human beings, then we will issue the documents. And if the bureaucrat doesn't recognize it, whose fault is that?"
Travels and controversies Garry Davis Citizen World
Mr. Davis lived for many years in France, at one point making a living as an importer of English pipe cleaners and at another as the proprietor of a diaper service. He traveled with some frequency — sometimes at the demand of the country, he was visiting.
He was shooed out of England in 1953 after he tried to force entry into Buckingham Palace to speak with Queen Elizabeth II about extending his visitor's permit. The Miami Herald reported that the British once gave Mr. Davis a one-way trip to India and that the French discovered him as a stowaway and then sent him back to New York on a banana boat. He was jailed more than 30 times, according to a news account, including for producing fraudulent documents.
"I don't care if you are the Kaiser of China," a German judge once told him, "just show me your papers." The judge described him as "meshuga," or crazy. In another case involving the legitimacy of his passport, a U.S district court judge ruled against Mr. Davis — but noted that "the court in no way wishes to depreciate the honesty of belief or depth of conviction that the petitioner feels for the cause of world citizenship." Garry Davis Citizen World
Sol Gareth Davis was born July 27, 1921, in Bar Harbor, Maine. He studied drama at the Carnegie Institute of Technology before his service in the Army Air Forces and acted on Broadway as an understudy for Danny Kaye. He had lived in the United States for the past several decades, most recently in Vermont. In 1986, he ran for mayor of Washington and received 585 votes. Shortly thereafter, he sought the U.S. presidency on the World Citizen Party ticket, which advocated, among other measures, total disarmament and global government.
Mr. Davis wrote books including "The World Is My Country" (1961) and "World Government, Ready or Not!" (1984).
His death, of undisclosed causes, was confirmed by the World Service Authority. Survivors include four children; two siblings; and a granddaughter. A complete account of his marriages could not be immediately confirmed. "Many people consider my renunciation of nationality as unpatriotic and un-American. It is neither," Mr. Davis once said. "Patriotism or love for one's country is totally dependent on love for one's planetary community. How can the part survive without the whole?" Garry Davis Citizen World